Computer Services - Repairs and Upgrades in San Francisco
Sweet Memory has been providing efficient computer repair in San Francisco for more than 25 years now.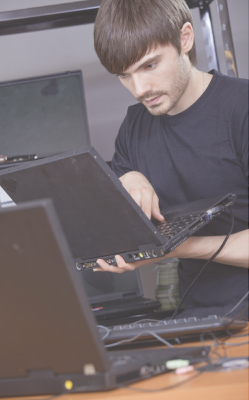 The extensive range of computer repair and maintenance services provided by Sweet Memory covers all your computer and laptops software/hardware needs as well as regular maintenance, emergency repairs, and other IT support services. Sweet Memory has been providing reliable computer maintenance services to a wide range of corporations, as well as individual clients, with emergency repair, network infrastructure systems, virus removal, data recovery, hard drive/memory upgrades, etc. at the most affordable cost.
Laptop Repair San Francisco
Sweet Memory has been providing corporate executives as well as other individuals with efficient laptop repair in San Francisco financial downtown district. Special service and maintenance packages are offered to small and medium sized corporations designed to the specific requirements of each client.
Computer Networking/Infrastructure & Emergency Repair
Expert IT technicians at Sweet Memory perform on-site software and hardware upgrades and repairs. These IT professionals are also expert at diagnosing, analyzing and repairing all networking infrastructural problems that you might face. We believe in providing highly-effective IT support and services. The emergency repair procedure of Sweet Memory is renowned for its promptness in response as well as efficiency in repairing the problem.
Data Recovery/Virus Removal & Hard Drive/Memory Upgrades
Sweet Memory offers the most reliable data recovery service in San Francisco with the help of our expert IT technicians who specialize in hardware and software repairing. These services also include regular analyzing for virus and prompt virus removal, including malware and spyware as well. Sweet Memory offers the largest range of upgrades for personal/corporate hard drives and other memory storage devices. Our expert IT consultants will advise you on the most suitable memory device and hard drives for your requirements. Sweet Memory maintains the most efficient and affordable computer support and services in the San Francisco area.